01. OPENING TITLE
For this idea we took an off placed wording of packaged and connected them with individual lines giving an 80's feel 3D effect.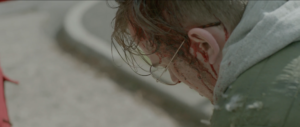 02.  Jack
We tried to make the protagonist your absolute average. This is Jack, a 20 something with no business being in the problem he is in. Character development was important and took us a few revisions to get where we go to. But actor Phillip Jones was class and got exactly what we needed from him.
03.  Synopsis
Jack is cycling as fast as his can, to deliver a package before the deadline of 10.30am. We follow him on his increasingly desperate journey. He is knocked off his bike when he jumps a red light and ignores the advice of onlookers and carries on.
He works in a nightclub where he caught a fellow barman stealing from the till. When a girl from the local uni asked him out, he took his colleague's advice and borrowed from the till to pay for his date. He was caught on the CCTV and taken to the bar manager's office. To work off his debt, he was told to deliver a package the next day to the club's gangland owner. That's why he is in such a hurry this morning!