A moment with Sarah Callaghan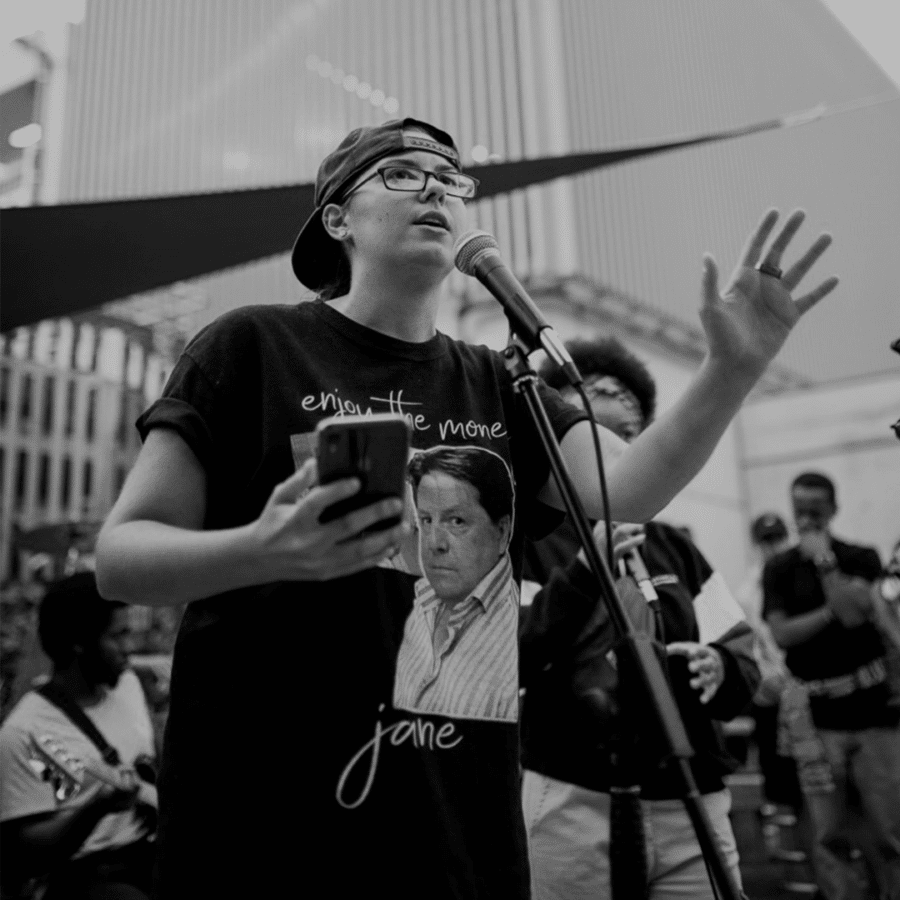 Comedian, poet and all-round wordsmith, Sarah Callaghan has been making her mark on the arts scene for ten years now and things are only looking up. We met with her to chat all things comedy, poetry and things to come.
She's the same person off-stage as she is when she's performing, tackling serious subject matters and making me laugh all in the same breath. Candid about her life experiences, explaining how her poetry stemmed out of a dark period in her life. 'I'd just come out of an abusive relationship and got really depressed and just started writing,' she tells me, as we sit having a pizza and a pint in a Bethnal Green pub. 'It just came naturally,' she explains. 'Some people find it so hard to put into words how they feel so when my stuff connects with them and they come up to me so touched, it's because I've said what they've been thinking'. She laughs about how it's the pieces she writes at the darkest times that resonate the most.
But her poetry is so personal and honest that it's hard not to hear a little bit of yourself in every piece. It's punchy and lyrical, diving into everything from her dad's dystopian views on artificial intelligence to the vulnerabilities and hardships of modern love. More often than not, she blends her words with a musical backdrop – something she picked up from George the Poet and Kate Tempest – and her shows become a mix of music, storytelling and laughs all blurred together. It's a masterclass in self expression and telling your story in whatever way comes naturally. You can be funny and serious, angry and optimistic, vulnerable and strong. A space where quick wit and laughs don't detract from the sentiment at its core.
As someone who's no stranger to being on stage, Sarah explains that performing poetry was a whole new experience. She tells me that with spoken word, there's a much deeper connection with the audience. 'With comedy, it's me performing for you. I'm like the court jester. Even though I've got the microphone, the audience always seem like they're in charge. You're telling me if I'm good or not by your laughter, and if you're not laughing, that means I'm shit. But with poems, people will clap even if you're rubbish. There's no consequence if you're bad cause people respect you so much for opening up and being honest. And even if you are shit delivering the words, that respect is never diminished.'
Whether it is poetry or comedy, storytelling is intrinsic to her craft. It's never just throwaway jokes or pretty poems. There's a story that unfolds from one minute to the next. 'The poetry especially is a story from start to finish', she explains, 'we start in a very different place to where we end up at'. The same applies for her recent EP, Jacob's Ladder which is meant to be listened to all the way through to get the same effect. Even though each of the poems are unique, there's a thread running through all of them that makes it all feel like a finished sentence.
So what's to come for Callaghan? She's got her new book 'Nothing To Lose, Everything To Gain' coming out in October and is hoping to get back to gigging very soon, pandemic-permitting. In the meantime, you can stream her EP, Jacob's Ladder, and keep an eye out on her socials (@scallaghan1) for when and where to find her and I highly recommend you do so.